Gloucestershire Symphony Orchestra is one of the county's leading amateur/semi-professional orchestras, providing a platform for local composers and soloists. We encourage young musicians and audiences, for example by hosting the Gloucestershire Young Musician competition, and by maintaining close links with Gloucestershire Academy of Music.
We play classical music from all eras, including modern works and first performances.
Playing members
We are keen to welcome new members as players, and we are currently looking to expand the size of our string sections. There are no formal auditions but players should ideally be Grade 7 standard or above, and we invite new players to sit with a section leader during rehearsal, prior to being admitted into the orchestra.
Wind and percussion players are expected to be post Grade 8 standard, and woodwind players equivalent to diploma standard.
If you would like more information, or would like to discuss joining the orchestra, please contact us.
Rehearsals
Rehearsals are weekly during term time at Elmbridge Primary School, Elmbridge Road, Gloucester, GL2 0PE (enter via Sisson Road) on Tuesdays 7.30 – 9.30pm unless otherwise stated. The rehearsal prior to the dress rehearsal is 7.15 – 9.45pm. Interested players are welcome to come along and try us out!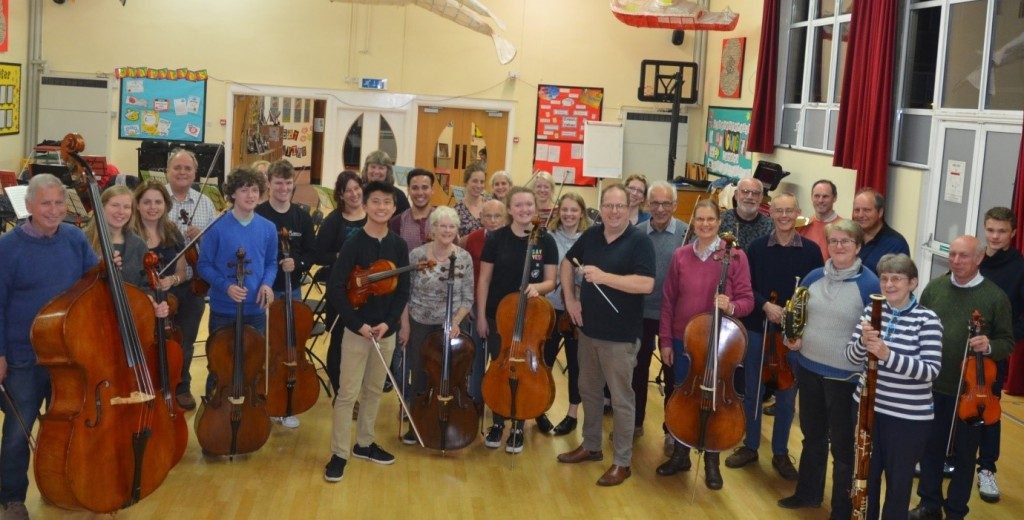 Previous concerts photos and videos
See our Previous Concerts page.
Other activities: Flashmob 2014
On Saturday 24 May 2014, the Gloucestershire Symphony Orchestra, led by Glyn Oxley, set up unannounced at the Eastgate Shopping Centre in Gloucester. Members of the public were invited to conduct the orchestra…
Orchestra Committee
We welcome all members to join the committee and contribute to organising the orchestra, aiming for diversity of instruments, ages, experience, etc. Members are also encouraged to help with organising without being on the committee, for example, providing refreshments at rehearsals and concerts.
Conductor – Glyn Oxley
Leader – Marie Roberts-Watkins
Chair – Viv Hargreaves
Secretary – Karen Williams
Treasurer – Jim Webster
Concert Manager – Damian Kenny
Membership Secretary – Helen Calder
Librarian – Gill Greenwell
Other members: Suzanne Blewett
The committee also monitors Safeguarding and Data Protection.
History
Gloucestershire Symphony Orchestra was founded in 1901 by Cathedral organist Sir Herbert Brewer and conducted by Herbert Sumsion, John Sanders and Mark Finch, before Glyn Oxley was appointed in 2014.
GSO has performed in more than a dozen venues throughout the county and beyond, including Gloucester Cathedral, Cheltenham Town Hall, Pittville Pump Room, Tewkesbury Abbey, Stroud Subscription Rooms, Cirencester, schools and churches, Gloucester shopping centre, and even underground in Clearwell Caves in the Forest of Dean!
It played at Gloucester's Three Choirs Festival in 1998, 2001, 2004 and 2007.
We are supported by members and friends, grants and sponsorship.