2018 'The Big Bad Wolf'
Stroud Subscription Rooms
More than 200 young people enjoyed listening to this twist of the tale of Little Red Riding Hood, as written by Roald Dahl and narrated by Lydia Kenny. They also enjoyed taking turns to conduct the orchestra, helped by conductor Glyn Oxley, and making music with French horn player Stephen Belinfante's hosepipes!
Prior to the concert day, members of the Gloucestershire Symphony Orchestra visited schools in the Stroud area to show young students some musical instruments, and encourage them to play music.
2017 'Three Little Pigs'
Stroud Subscription Rooms
John Williams
Harry Potter
Dahl/Patterson
Three Little Pigs
Narrator: Lydia Kenny
Nielsen
Festival March from Aladdin suite
Bizet
Carmen Suite Toreadors March
The audience of young people and their parents were kept spellbound, listening to this dastardly version of Three Little Pigs. They also enjoyed having a go at conducting the orchestra, and sitting amongst orchestra players, where they experienced the music from 'inside the orchestra'.
2016 'Carnival of the Animals'
Gloucester Guildhall
This children's concert was directed by Glyn Oxley with soloists Marcel Zidani and Chuen-An Chern (pianists), Gordon Bailey (double bass), Jacob Barns (cello) and Richard Atkins (narrator).
Dankworth
Tom Sawyer's Saturday
Saint-Saens
Carnival of the Animals
Narrator: Richard Atkins
Mussorgsky
'Gopak' from the opera 'The Fair at Sorochinsk'
John Williams
Jurassic World
Narrator Richard Atkins and several musicians from the orchestra toured Stroud valley primary schools prior to the concert, encouraging students to try out some musical instruments.
2015 'Peter and the Wolf'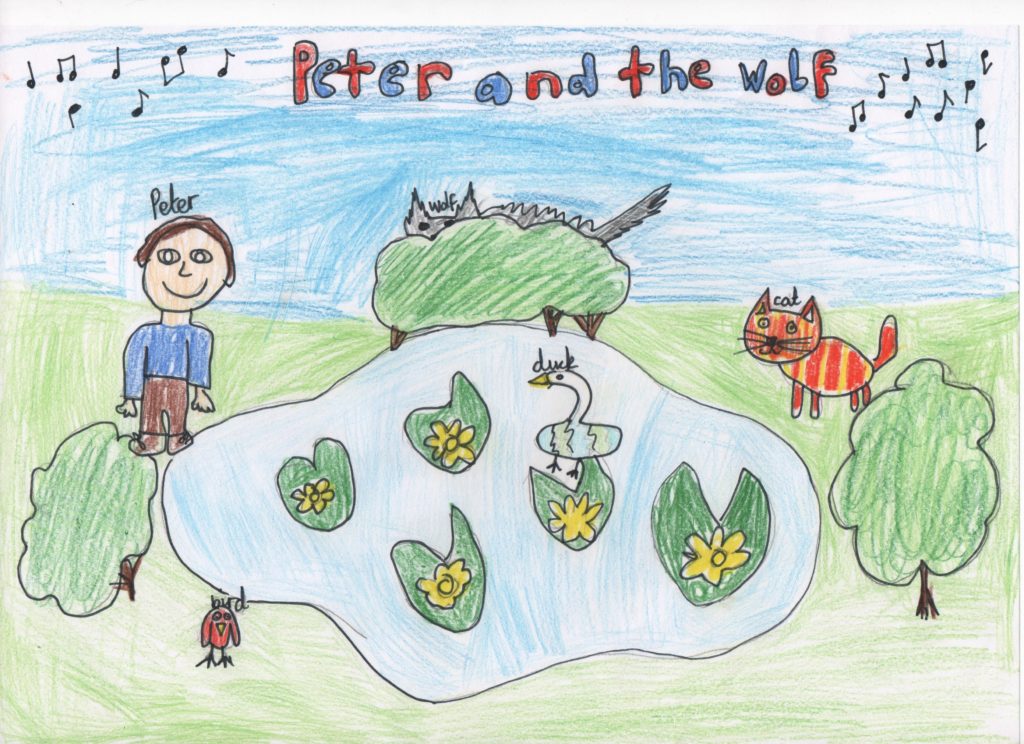 One of many amazing pictures drawn by Year 4 pupils from Cheltenham's Greatfield Park Primary School for Gloucestershire Symphony Orchestra's 'Peter and the Wolf' children's concert.